Mather Primary Care Hosts Mather's Residency Programs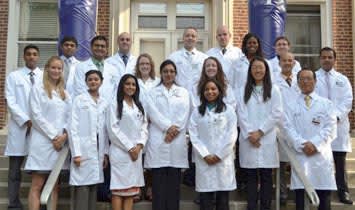 By Robert C. Giacobbe, DO
Mather Primary Care, whose main office is located in Port Jefferson, NY is proud to support the John T. Mather Memorial Hospital Residency Program in Internal Medicine and Psychiatry as well as a Transitional Year Program for those residents going on to a medical specialty. This accredited group of Internal Medicine and Family Medicine physicians stand at a unique intersection of high-quality, patient-centered primary care and the education of the young physicians that will lead next generation of outstanding health care providers.
As Medical Director of Mather Primary Care and Associate Program Director for Mather's Internal Medicine Residency, Dr. Robert C. Giacobbe takes great pride in directing the outpatient portion of the residents training. "Traditionally, medical training has taken place in large university hospitals with a strong focus on research and specialty care," Dr. Giacobbe noted. "I have no doubt that these institutions will remain central to the future of medical care. The physicians of tomorrow, however need to be exposed to the high-quality care, centered on the needs of the individual patient that only an industry-leading community hospital like John T. Mather Memorial Hospital can offer. We are privileged to bring the values that have made Mather Hospital an award winning institution to the outpatient, primary care setting." With over 60 residents rotating with the faculty physicians of Mather Primary Care, it is easy to see how Mather's culture of excellence will impact many young doctors in the coming years.
Dr. Giacobbe and his colleagues, along with the dedicated staff of Mather Primary Care, welcome the challenge of offering care to the community through both a traditional private practice setting as well as the resident's teaching practice. Currently with four locations, and more in the planning stages, Mather Primary Care is uniquely situated to serve a growing community of patients. Mather Primary Care is proud is to be part of Harbor View Medical Services, PC, a wholly owned subsidiary of John T. Mather Memorial Hospital offering outstanding primary and specialty care throughout Suffolk County.
- Robert C. Giacobbe, DO
Medical Director Harbor View Medical Services, PC