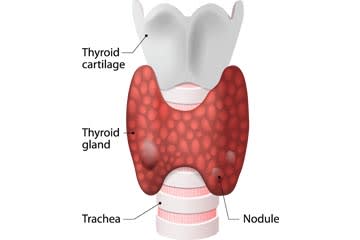 By Harbor View Medical Services, PC
How Your Thyroid Works
Your thyroid gland is a small gland, normally weighing less than one ounce, located in the front of the neck. Your thyroid gland is made up of two halves, called lobes that lie along the windpipe (trachea) and are joined together by a narrow band of thyroid tissue, known as the isthmus.
The thyroid is situated just below your "Adams apple" or larynx. During development (inside the womb) the thyroid gland originates in the back of the tongue, but it normally migrates to the front of the neck before birth. Sometimes it fails to migrate properly and is located high in the neck or even in the back of the tongue (lingual thyroid). This is very rare. At other times it may migrate too far and ends up in the chest (this is also rare).
The function of the thyroid gland is to take iodine, found in many foods, and convert it into thyroid hormones: thyroxine (T4) and triiodothyronine (T3). Thyroid cells are the only cells in the body which can absorb iodine. These cells combine iodine and the amino acid tyrosine to make T3 and T4. T3 and T4 are then released into the blood stream and are transported throughout the body where they control metabolism (conversion of oxygen and calories to energy).
Every cell in the body depends upon thyroid hormones for regulation of their metabolism. The normal thyroid gland produces about 80% T4 and about 20% T3, however, T3 possesses about four times the hormone "strength" as T4.
According to Dr. Amrita Srivastava from Mather Endocrinology, "Thyroid disorders a more common than you'd think. About 20 million Americans—more of them women than men—are affected by a thyroid disease or disorder, according to the American Thyroid Association (ATA). In fact, an estimated one in eight women will develop a thyroid disorder at some time in her life. So, it's important to understand what the thyroid does in your body and what symptoms may develop when it doesn't function properly."
When Things Go Wrong
When outside influences such as disease, damage to the thyroid or certain medicines break down communication, your thyroid might not produce enough hormone. This would slow down all of your body's functions, a condition known as hypothyroidism or underactive thyroid. Your thyroid could also produce too much hormone sending your systems into overdrive, a condition known as hyperthyroidism or overactive thyroid. These two conditions are most often features of an underlying thyroid disease.
When considering thyroid disease, doctors ask two main questions: First, is the thyroid gland inappropriately producing an abnormal amount of thyroid hormone? And second, is there a structural change in the thyroid, such as a lump—known as a nodule —or an enlargement—known as a goiter? Though one of these characteristics does not necessarily imply that the other is present, many thyroid disorders display both.
Struggling with symptoms of thyroid and parathyroid disease—from Graves' disease to hyperparathyroidism?
Visit Mather's Endocrinology specially trained providers treat people who suffer from hormone in balances. These diseases often affect other parts of the body beyond glands. While primary care providers know a lot about the human body, for diseases and conditions directly related to glands they will usually send a patient to an Endocrinologist.
"Source: 2016 National Health Observances, National Health Information Center, Office of Disease Prevention and Health Promotion, U.S. Department of Health and Human Services, Washington, DC."