For Healthier Arteries, Eat More Fruits and Vegetables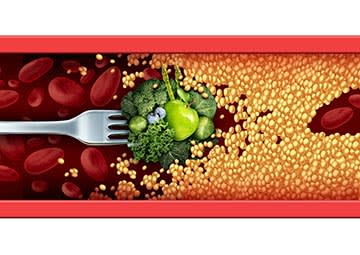 By Three Village Cardiology
Eating more fruits and vegetables may reduce the risk of peripheral artery disease, according to a study of more than 3.6 million individuals in the U.S. Past research has linked fruit and vegetable consumption to a lower risk of coronary heart disease and stroke, but there has been little research into the effects of fruits and vegetables on arteries in the legs and arms.
Peripheral artery disease, or PAD, usually arises as a narrowing of arteries to the legs that causes cramping, pain or tiredness in the muscles while walking or climbing stairs. It affects at least 8 to 12 million Americans.Risk for PAD increases with age, and with a history of smoking, diabetes or high blood pressure. To investigate whether fruit and vegetable consumption influences risk for PAD, the research team analyzed dietary data on 3,696,778 men and women with an average age of about 65, around 234,000 of whom had PAD.
The U.S. Department of Agriculture/U.S. Health and Human Services Dietary Guidelines for Americans recommend at least two servings of fruit and at least three servings of vegetables each day, but only 29 percent of participants in the study said they ate even three servings of fruits and vegetables daily. Nearly half said they consumed at least three servings of fruit and vegetables on fewer than half the days of the week. Older white women were most likely to consume fruits and vegetables regularly, and younger black men were least likely to eat at least three servings daily.
Fruit and vegetable consumption also varied by region, with those living in the Pacific states reporting the most regular consumption and those living in the South Central states reporting the least regular consumption. After adjusting for age, sex, race and other risk factors, the more fruits and vegetables the participants ate, the lower their likelihood of having PAD. When researchers divided participants according to their smoking status, they found the relationship between fruit and vegetable intake and PAD was strongest among current smokers, less significant among former smokers and not significant among people who never smoked.
Unfortunately, fruit and vegetable intake is quite low across the entire United States.